Fairfax Vol. 1
Beefy American Rock Drums
Punchy, muscular drums for that classic American Rock sound
The Terminator - The holy grail of snare drums.
Recorded in the legendary Sound City
The studio
Fairfax Recordings
Los Angeles
Fairfax Recordings, A.K.A. Sound City... this place is so important to the history of Rock and Roll that Dave Grohl directed a feature-length documentary about it. Nirvana recorded "Nevermind" there in 1990, but since 1969, this one legendary room has pumped out an unbelievable stream of seminal rock albums; Pat Benetar, Metallica, Guns'n'Roses, Slayer, Tool, Rage Against the Machine, the list goes on and on.
Now you can have the extraordinary drum sound from this studio right in your DAW. The well-maintained vintage gear, the vintage Altec console, the irreplaceable microphones, the kit, and the magic of the room itself all shine through in this ADpak, giving you a slice of the sound that defined American rock music.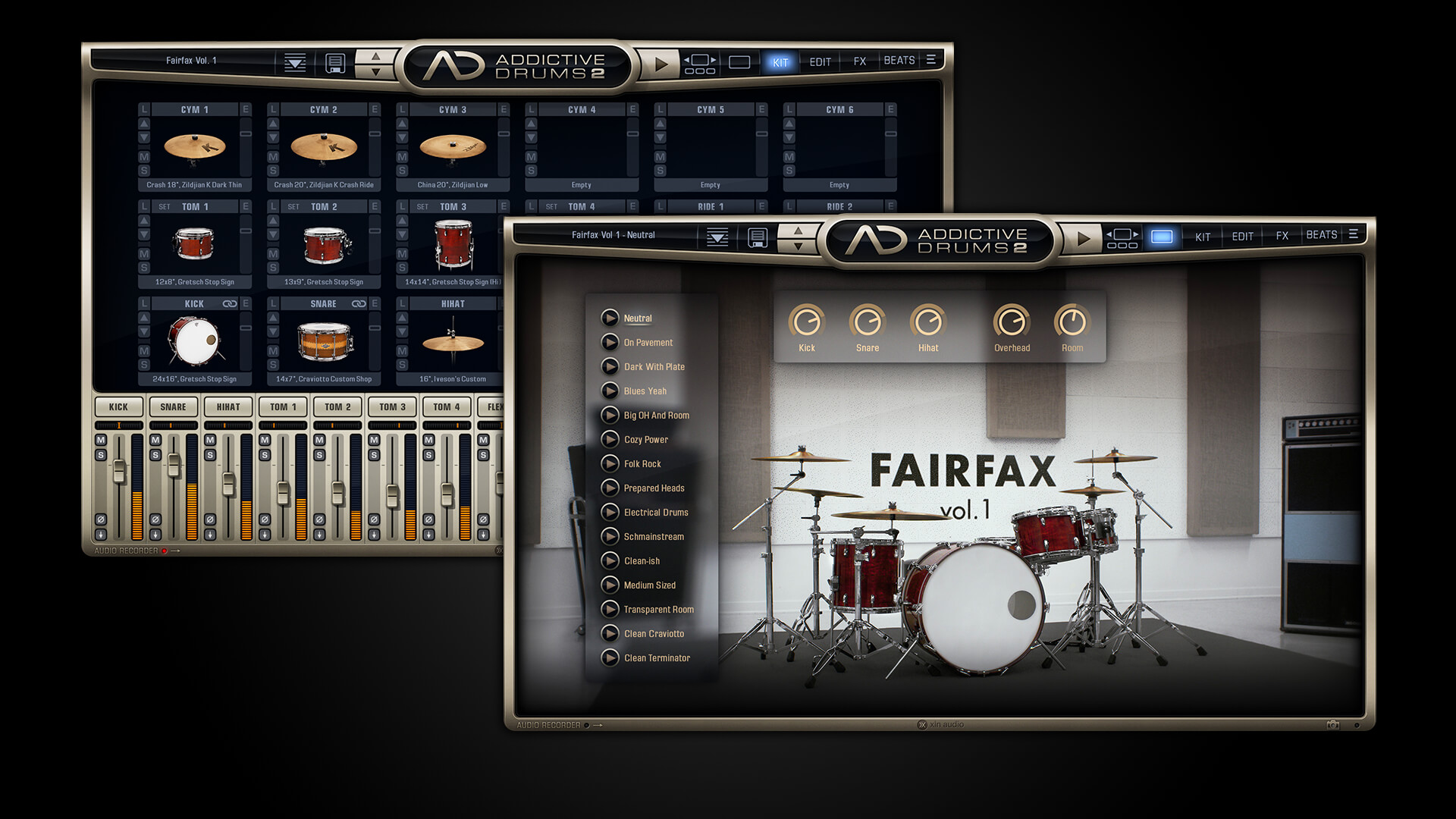 Vintage drum kit –Gretsch "Stop Sign"
To deliver that beefy, muscular drum sound that makes American rock so great, we picked a vintage Gretsch "Stop Sign" kit. This 6 ply kit from the '70s produces a well-rounded sound with a lot of punch and great sustain, and nicely tuneable skins. For snares, we've spoiled you with a beautiful Craviotto Custom Shop snare and an ultra-rare Tama Bell Brass snare that is pretty much the holy grail of snare drums. This Tama snare, known in the industry as "the Terminator" featured on pretty much every huge rock hit of the '80s and '90s, and now we captured it in it's spiritual home for you to use in your productions.
Gretsch Stop Sign 24x16"

Tama Bell Brass 14x6.5"

Craviotto Craviotto Custom Shop 14x7"

Iveson's Custom 16"

Gretsch Stop Sign 12x8"

Gretsch Stop Sign 13x9"

Gretsch Stop Sign (Hi) 14x14"

Gretsch Stop Sign (Lo) 14x14"

Zildjian K Dark Thin 18"

Zildjian K Crash Ride 20"

Iveson's Selection Dark 24"

Zildjian Low China 20"

Gretsch Tom Stop Sign Shell Hit

Clap - 3 people
Kick:
Snare:

14x6.5" Tama Bell Brass (a.k.a. "The Terminator")
14x7" Craviotto Custom Shop

Toms:

12x8" Gretsch Stop Sign
13x9" Gretsch Stop Sign
14x14" Gretsch Stop Sign (low tuned)
14x14" Gretsch Stop Sign (high tuned)

Cymbals:

16" Iveson's Custom Hihat
18" Zildjian K Dark Thin Crash
20" Zildjian K Crash Ride
20" Zildjian Low China
24" Iveson's Selection Dark Ride

Extra:

Gretsch Stop Sign Tom Shell Hit
Handclap (3 people)