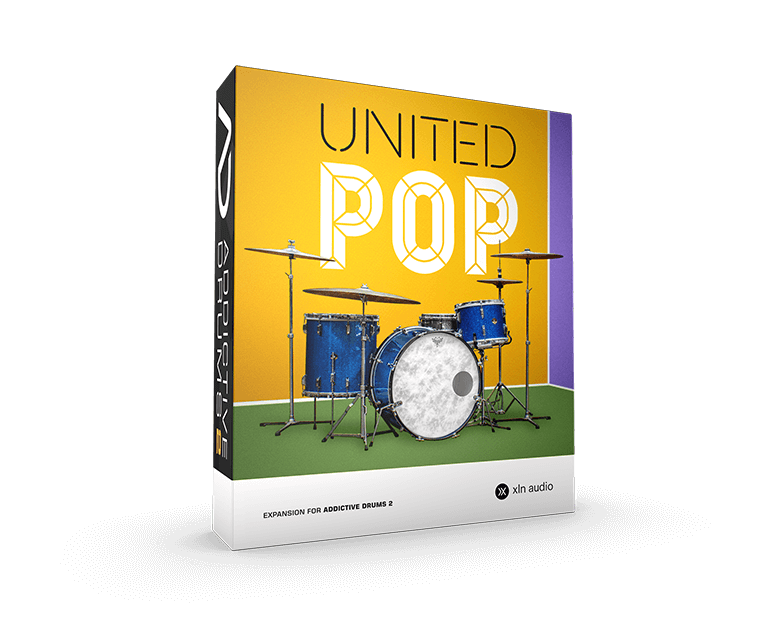 United Pop
Colorful and polished drums that POP!
Vintage Leedy & Ludwig kit - matured for more than 60 years
Clean crisp sound for impeccable pop
Legendary Hollywood studio
The studio
United Recording, Studio A
Los Angeles
To record the ultimate pop kit, we went straight to the top: United Recording. This studio at 6050 Sunset Blvd. in Hollywood was created in 1957 and built to the exacting standards of Bill Putnam (legendary engineer and founder of Universal Audio). Studio A has witnessed the birth of some of the most iconic hit songs of the last half century. While the equipment has been lovingly maintained and updated over time, the actual recording rooms have remained untouched. Listening to the lush clear warmth of this ADpak you can understand why. After all, if it's good enough for Frank Sinatra, Stevie Wonder, U2, Madonna, Michael Jackson, Radiohead, No Doubt, Queens of the Stone Age, ...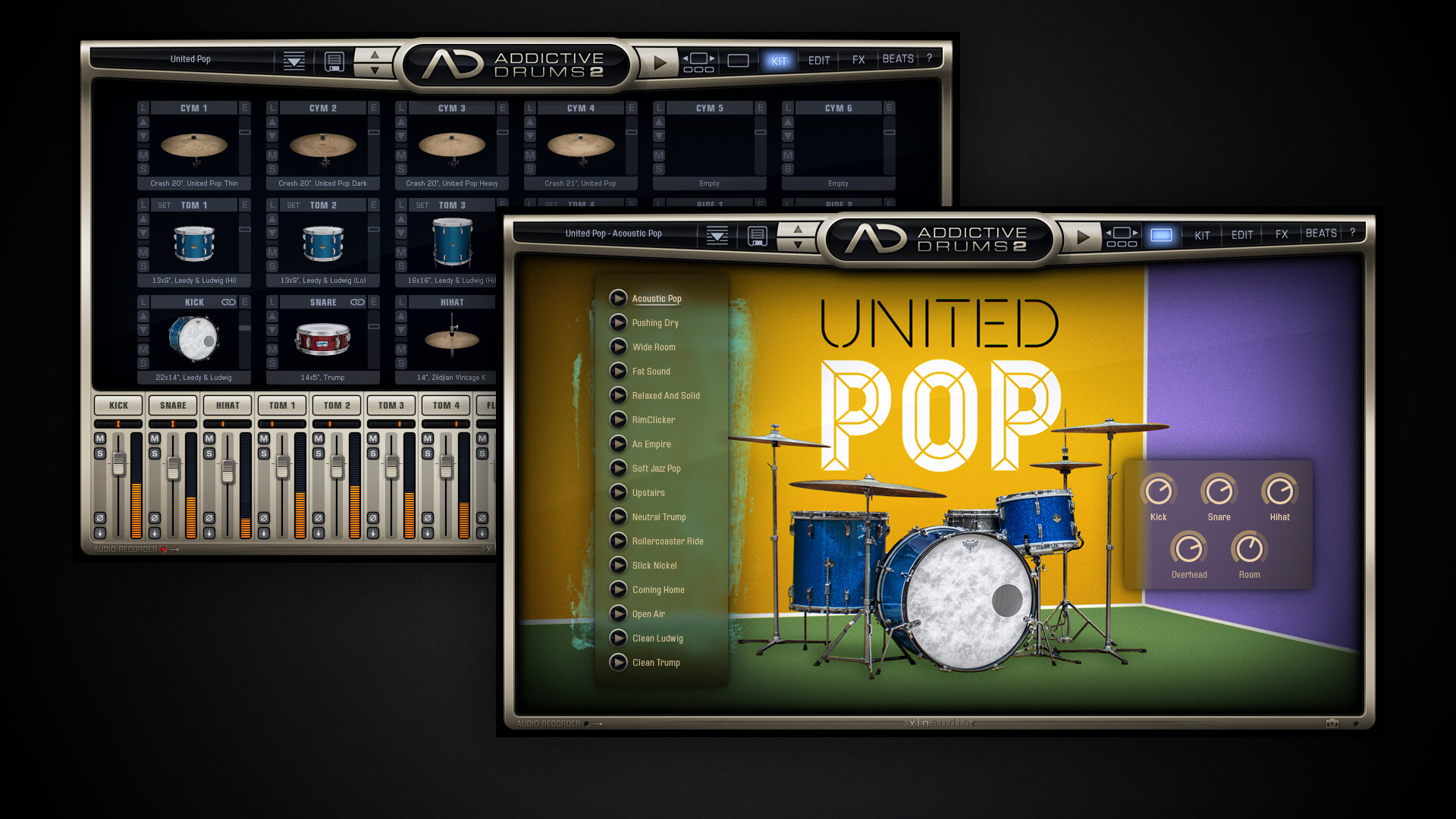 Vintage drum kit - Leedy & Ludwig
Certain things just get better with age; fine wines, Miley Cyrus, and this Leedy and Ludwig kit. The years have been kind to these drums, drying out every drop of moisture and leaving them crisp, clear and resonant. Yesterday's drums, treated with love to produce the kind of uncluttered sounds that are perfect for today's pop hits.
For snares we went extra clean, giving you the choice between a Ludwig nickel over brass, and a 1960's japanese copy of a Slingerland drum called "Trump" that's so crisp, we just had to add it to this ADpak.
Leedy & Ludwig 22x14"

Ludwig Nickel Over Brass 14x6.5"

Trump 14x5"

Zildjian Vintage K 14"

Leedy & Ludwig (Hi) 13x9"

Leedy & Ludwig (Lo) 13x9"

Leedy & Ludwig (Hi) 16x16"

Leedy & Ludwig (Lo) 16x16"

United Pop Thin 20"

United Pop Dark 20"

United Pop Heavy 20"

United Pop 21"

United Pop 26"

Claves / Castanets

Blocks - Wood & Plastic

Tambourine / Vibraslap

Leedy & Ludwig Tom RimClicks
Kick:
Snare:

14x6.5" Ludwig Nickel Over Brass
14x5" Trump

Toms:

13x9" Leedy & Ludwig (Tuned High)
13x9" Leedy & Ludwig (Tuned Low)
16x16" Leedy & Ludwig (Tuned High)
16x16" Leedy & Ludwig (Tuned Low)

Cymbals:

14" Zildjian Vintage K Hihat
20" United Pop Thin Crash
20" United Pop Dark Crash
20" United Pop Heavy Crash
21" United Pop Crash
26" United Pop Ride

Extra:

Claves/Castanets
Wood/Plastic Block
Tambourine/Vibraslap
Leedy & Ludwig Rim Clicks