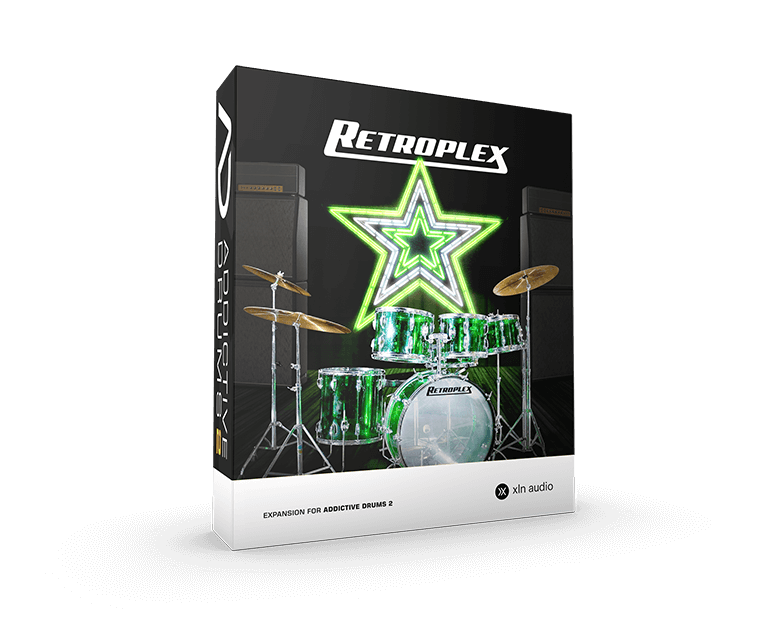 Retroplex
The Sound of Glam Rock
Ludwig Vistalite Kit
Two kick drums, tambourine and cowbell
Controllable room tone and tons of presets
The studio
Soundtrade Studios
Stockholm
Recorded clean and clear in the large room at Soundtrade Studios in Stockholm, famed for its sheer size and great acoustics, with a range of additional presets which can be tweaked to get this kit sounding exactly how you like. Room tone captured on Neumann and Gefell mics in the live room can be blended in separately, allowing your sound to go from crisp and clean, to full on stadium ambiance.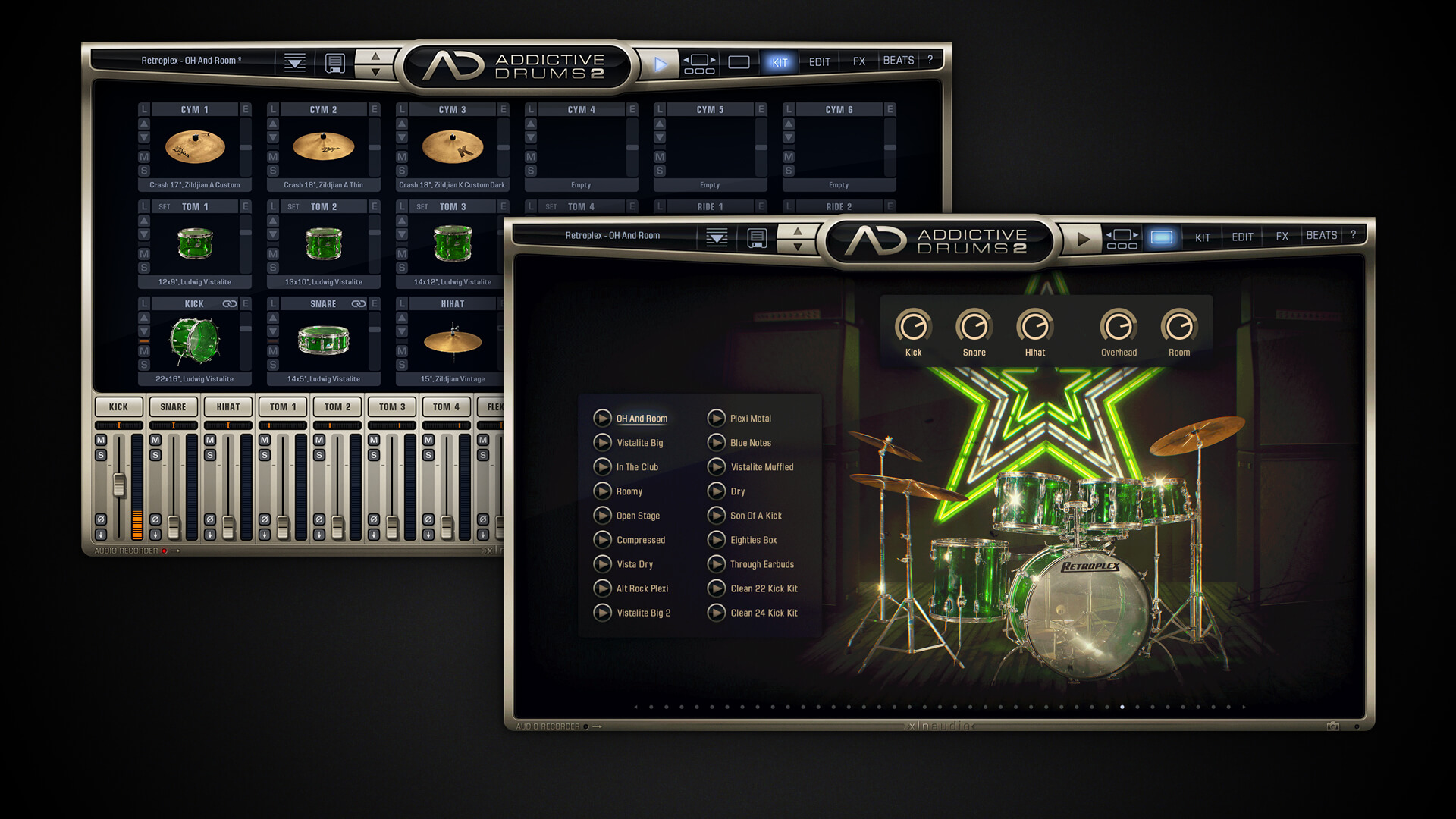 Vintage Kit - Ludwig Vistalite
Let's be clear, at XLN we don't do things just for show, this Ludwig Vistalite kit sounds every bit as punchy and outrageous as it looks, but it doesn't hurt to throw in a little showbiz sometimes. Since 1972, vistalite kits like these have provided their thunderous, resonant attack to artists who knew that spectacle was a big part of the art. This Kit has full glam credentials. John Bonham, the legendary drummer from Led Zeppelin, was a big fan. David Bowie and Lou Reed both sang in front of a set. Keith Moon of the Who famously filled one of his with goldfish for one concert!
Add a second kick drum, a full set of Zildjian cymbals, a double steel tambourine and a cowbell, and you're ready to rock and roll!
Ludwig Vistalite 22x16"

Ludwig Vistalite 24x16"

Ludwig Vistalite 14x5"

Zildjian Vintage Hihat 15"

Meinl Double Steel

Meinl Steel Bell Large

Ludwig Vistalite 12x9"

Ludwig Vistalite 13x10"

Ludwig Vistalite 14x12"

Ludwig Vistalite 16x16"

Zildjian A Custom Crash 17"

Zildjian A Thin Crash 18"

Zildjian K Custom Dark Crash 18"

Zildjian K Constantinople Medium Ride 22"
Kick:

22x16" Ludwig Vistalite
24x16" Ludwig Vistalite

Snare:
Toms:

12" Ludwig Vistalite
13" Ludwig Vistalite
14" Ludwig Vistalite
16" Ludwig Vistalite

Cymbals:

15" Zildjian Vintage Hihat
17" Zildjian A Custom Crash
18" Zildjian A Thin Crash
18" Zildjian K Custom Dark Crash
22" Zildjian K Constantinople Medium Ride

Extras:

Meinl Double Steel Tambourine
Meinl Steel Bell Large Cowbell